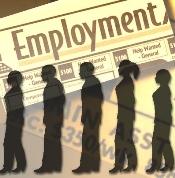 The unemployment rate in the OECD region, comprising mostly developed nations, slipped to 8.6 per cent in May, while the count of jobless people in the area stood at 45.9 million during the same month.
The rate of unemployment in the 31-nation Organisation for Economic Cooperation and Development (OECD) area stood at 8.7 per cent in April.
According to the latest OECD figures, the unemployment rate marginally fell to 8.6 per cent in May.
"The OECD unemployment rate remains, however, at a level close to post-war highs... The number of unemployed people in OECD countries, roughly stable since August 2009, stood at 45.9 million in May 2010," it said in a statement.
The figure is 1.4 million more than what was seen in May 2009. In May 2010, the highest unemployment rate was seen in Spain (19.9 per cent) followed by the Slovak Republic (14.8 per cent), Ireland (13.3 per cent) and Portugal (10.9 per cent).
The lowest unemployment rate was reported from South Korea (3.2 per cent), Austria (4 per cent) and the Netherlands (4.3 per cent). Last week, the OECD said its member nations need to create 17 million jobs to get employment levels back to the pre-crisis levels.
"But taking into account people, who have given up looking for work or are working part-time but want to work full-time, the actual number of unemployed and under-employed in OECD countries could be about 80 million," it had said.