State-owned National Aviation Company of India Ltd, Jet Airways and Kingfisher Airlines together owe Rs 2,200 crore (Rs 22 billion)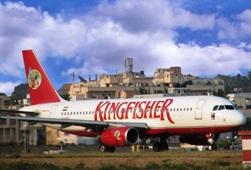 as payment for jet fuel to the government-owned oil marketing companies.
Analysts say this is a reflection of the high debt that most aviation companies have on their books. "Aviation companies are unable to pay their dues because they are into losses.
"Carriers such as SpiceJet are profitable and, hence, pay their dues on time and also get discounts on the aviation turbine fuel price at times.
"However, these companies are slowly turning profitable and will be able to reduce their payables," said a Mumbai-based analyst.
An executive from Jet Airways said, "Dues did not mean the company is defaulting on the payments. All the payments have been on time, as is obvious from the fact that the guarantee has not been invoked by Indian Oil Corporation."
An email sent to Jet Airways evoked no response.
Kingfisher Airlines owes Rs 176 crore (Rs 1.76 billion) to HPCL.
An HPCL executive said, "The carrier is currently on a cash and carry basis with HPCL and in addition to the Rs 500 crore (Rs 5 billion) corporate guarantee from the United Breweries Group (which owns Kingfisher), it is expected to provide a bank guarantee of Rs 300 crore (Rs 3 billion).
"The total dues of the company at present are Rs 176 crore (Rs 1.76 billion) above the approved limit.
"HPCL might think of putting Kingfisher back on the credit facility once the company furnishes a bank guarantee."
Kingfisher agreed to pay all its dues to HPCL by July 31, after the OMC was directed by the government to stop supply of jet fuel to the airline.