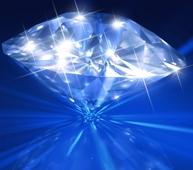 Rough and polished diamond prices are likely to rise by another 15-20 per cent this year due to lack of supply and rising demand from consumers in emerging markets.
Diamond prices fell about 30 per cent last year and had recovered by almost 15 per cent this year.
Further recovery is imminent by the end of this year, said Mehul Choksi, chairman of Gitanjali Gems, a leading jewellery manufacturer and retailer, on the sidelines of a seminar organised by the Federation of Indian Chambers of Commerce and Industry in Mumbai on Monday.
Supporting the view, Mordy Rapaport of the leading industry publication, Rapaport Diamond Report, said, "Global miners are not going to resume supply of rough diamonds to the 2007-08 level, which will squeeze supply, leading to a price rise."
Mining cuts
India, world's largest diamond processing hub, imported roughs worth $7.5 billion (Rs 35,200 crore)  in 2009 as compared to $12-13 billion in previous years, as mining companies cut their output drastically.
De Beers reported an annual production at 24.6 million carats, 49 per cent below the 2008 level.
Rio Tinto reported an annual production cut by 33 per cent to 14.026 million carats in 2009. The two companies control over 95 per cent of the world's rough diamond availability.
Also, the Damtshaa mine (part of the Debswana group) remained closed for the whole of 2009. The Namaqualand mines in South Africa also announced closure for three years, at least until diamond prices increases to make the mining profitable.
This means existing mines are closing due to the lack of financial support. New mines will take at least seven-eight years to dig the first diamond. Hence, supply is going to remain a constraint for the next one year at least, said Rapaport.
But, consumers in emerging markets like India and China are coming to invest in diamond jewellery, which will drive global growth in the industry, he added.
Industry experts at the Ficci meet forecast the Indian diamond industry to witness a growth of at least 10 per cent this year, with rising exports to new markets, including Japan, West Asia and China. Industry expects believe diamond availability could be in short supply to the tune of 25-30 per cent.
Investment
Meanwhile, Farah Khan, a famous Mumbai-based jewellery designer, said the transparency in pricing may attract consumers to consider diamonds and jewellery as an investment tool for wider portfolio diversification.
Transparency in pricing of rough and polished diamonds, coupled with the creation of limited benchmark varieties of solitaire, can easily make consumers accept the instrument as an investment tool for wider portfolio diversification.
Today, diamond jewellery is considered as one of the best options for financial security but not as an investment option, due to the lack of transparency in pricing of rough and polished diamonds.
Like gold, diamond jewellery has a re-sale value but, ambiguity in pricing and the lack of transparency in the overall  trade had held this back, said Bina Goenka, founder-head of the Bina Goenka Luxury Group, another jewellery designer and retailer.