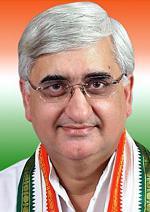 Corporate Affairs Minister Salman Khurshid on Tuesday said there is no cause for worry about the possibility of US market regulator SEC slapping a penalty on Mahindra Satyam, related to the multi-crore fraud at the erstwhile Satyam Computer.
"There is no formal communication (about SEC penalty on Mahindra Satyam) in this regard. What I have gathered informally is that there is no cause for worry," Khurshid said.
Satyam Computer Services was caught in a Rs 10,000 crore (Rs 100 billion) fraud perpetrated by its founder chairman, Ramalinga Raju, which came to light in early 2009.
Crisis-hit Satyam was taken over by Tech Mahindra and consequently, the firm was renamed as Mahindra Satyam.
Following the fraud, US regulator Securities and Exchange Commission (SEC) has been looking into possible violations and losses to investors caused by the fraud, since the company is listed on the New York Stock Exchange.
Indian capital market regulator SEBI had approached SEC seeking to exempt Mahindra Satyam from any penalties for possible violation of norms.
SEBI had argued that imposition of any penalty on Mahindra Satyam would act as a dampener at a time when the company was trying to stand on its feet.
Responding to a query on Mahindra Satyam's balance sheet, Khurshid said the company has been given time to prepare the same. Mahindra Satyam is also fighting nearly a dozen lawsuits in various US courts related to the fraud.