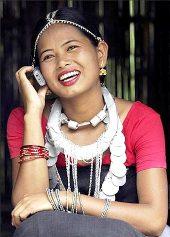 Plagued by the problem of non- branded mobile handsets flooding the domestic market causing huge revenue loss to the exchequer, the government is mulling a policy change to curb the import of such devices.
Communications and IT Minister A Raja is understood to have asked the Department of Information and Technology, under his own charge, to work out and consider restrictions on such imported mobile phones.
In a letter to the IT Secretary, the minister said, "The policy measures, which we take should promote the growth of manufacturing of both mobile phones and its parts and components and not merely promote rebranding and redistribution."
The proposed move could hit the home grown mobile brands such as Spice, Micromax and Oscar, who import handsets from abroad and rebrand them here.
However, it could give brands like Nokia, which has its own manufacturing unit in Chennai, a shot in the arm.
The handset giant had registered nearly 15 per cent decline in revenue at Rs 14,100 crore (Rs 141 billion) in 2009-10 at Rs 16,567 crore (Rs 165.67 billion) in the previous fiscal mainly due to low prices and fierce competition from smaller players.
Raja said such non-branded handsets of sub-standard quality pose a serious threat to the consumer safety, environment and security of the nation.
"The concern relates largely to huge revenue losses to the government as well as national security. Besides there is issue of non-payment of VAT, Octroi, entry tax and income tax by sellers of these phones," Raja said.
The policy is aimed to curb non-branded mobile phone and promote legitimate mobile phone industry in India.
According to Raja, government policy should not promote rebranded phones since they do not create jobs in India.
"We must ensure that our actions promote manufacturing and employment in India along with robust revenue collection for the government," he said.
India imports 8 million handsets every month.