The International Monetary Fund said on Tuesday that it was on course to finalise a new tool that would provide insurance to countries during a crisis, and also check accretion to foreign exchange reserves, by the time the leaders of 20 economic powers (G-20) meet in November.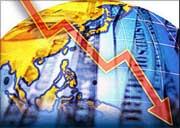 Dominique Strauss-Kahn, managing director of the multilateral agency, said various options, including expanding the scope of some of the existing tools, were being considered to provide a financial safety net.
South Korean Finance Minister Jeung-Hyun Yoon said the other option was to put in place a swap arrangement similar to the Chiang Mai Initiative for the Association of Southeast Asian Nations (Asean).
As part of the initiative, 10 Asean members along with China, Japan and South Korea agreed to draw from a foreign exchange reserves pool worth $120 billion to deal with short-term liquidity problems.
"The (global) crisis made it clear that we need something for global liquidity position. We are examining several options to strengthen our tool to prevent crises and mitigate systemic shocks, including more tailored crisis prevention facilities and multi-country approaches," Strauss-Kahn told reporters on the sidelines of a conference, jointly organised with the Korean government.
Last month, G20 leaders said finance ministers and central bank governors from the member countries would prepare policy options to strengthen global financial safety nets ahead of the Seoul Summit to build a more stable and resilient international monetary system.
But the South Korean finance minister acknowledged that so far there was no consensus between the developed and developing countries on the issue. The developed countries are against accumulation to the reserves of developing countries, which are a consequence of capital inflows, Yoon told a press conference.
Besides, advanced countries say the new mechanism will put additional burden on them. "If a net is in place, emerging countries will have less incentive to accumulate reserves," Yoon said.
While Yoon is hoping that consensus emerges over the next few months, he said the emphasis would be on ensuring a certain amount which is sufficient is set aside, can be accessed by eligible countries, comes without the stigma attached to accessing such facilities from IMF and the moral hazards are minimised.
"It will be a collective insurance instead of building own reserves to deal with future crises," Strauss-Kahn said.
He said that the new system could be an improvement over the Flexible Credit Line that comes without any strings attached for economies that are deemed to be sound. The facility was recently accessed by Mexico, Poland and Colombia.
The tool was announced in March 2004 during the introduction of FCL, along with enhancing stand-by arrangements and doubling lending access limits as part of a plan to help countries tackle the global economic turmoil.