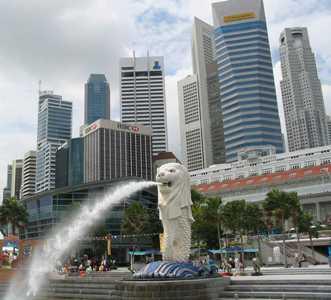 The Singaporean economy expanded at a stunning pace of 19.3 per cent in the second quarter of 2010, in yet another indication that Asia is leading the global economic recovery.
The strong growth comes on the back of good showing by the manufacturing and electronics industries of the city-state.
Bolstered by encouraging quarterly performance, the island nation has raised its 2010 growth forecast to 13-15 per cent from the earlier projection of 7-9 per cent.
According to the ministry of trade and industry, advanced estimates show that national gross domestic product rose 19.3 per cent in the June quarter.
"The manufacturing sector is estimated to have grown by 45.5 per cent year-on-year. Growth was driven by a surge in the output of the biomedical manufacturing cluster, as well as strong expansion in electronics cluster underpinned by healthy worldwide demand for electronic products," the ministry said on Wednesday.
Helped by higher tourists arrival and strong growth in the financial sector, the Singaporean economy had expanded 18.1 per cent in the first half of the year.
Singapore's latest growth figures also indicate that Asia is leading the global economic revival since many Western countries are still grappling with severe financial woes.
India and China saw a growth of 8.6 per cent and 11.9 per cent, respectively in the first three months of 2010.
Even as it upgraded the 2010 GDP growth forecast to 13-15 per cent, the ministry in a statement noted sluggish demand in the US and the European Union has lowered manufacturing output expectations in Asian economies.
"The exceptionally strong growth experienced by the economy in the first half of 2010 is therefore not likely to be sustained into the second half of the year," the ministry added.
The International Monetary Fund had said rapid growth has turned Asia into a global economic powerhouse even as it warned that the region needs to be prepared for global economic shocks.
© Copyright 2021 PTI. All rights reserved. Republication or redistribution of PTI content, including by framing or similar means, is expressly prohibited without the prior written consent.