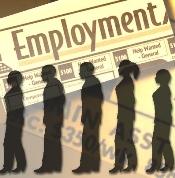 The unemployment rate in the United Kingdom slipped to 7.8 per cent in the three months leading to May, and the number of unemployed people declined to 2.47 million during the same period.
One of the worst hit by the global financial meltdown, Britain's labour market is yet to completely recover. It had seen thousands of job losses in the 2008-09 period.
"The unemployment rate for the three months to May 2010 was 7.8 per cent, down 0.1 on the quarter. The number of unemployed people fell by 34,000 over the quarter to reach 2.47 million," UK's Office for National Statistics (ONS) said.
However, ONS on Wednesday noted in a statement that the number of people who have been unemployed for more than a year touched 787,000, the highest since the three months leading to March 1997.
Meanwhile, on the back of part-time employees, the national employment rate climbed to 72.3 per cent for the three months to May. "The quarterly increase in total employment was mainly driven by part-time employees, which increased by 117,000 on the quarter to reach 6.63 million...," ONS said.
Going by official figures, the count of people seeking unemployment allowance dropped to 1.46 million between May and June 2010. The British economy, which is witnessing a slow recovery, expanded by just 0.3 per cent in the first three months of 2010.