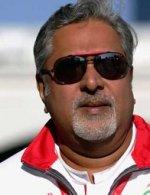 Liquor baron Vijay Mallya on Wednesday met Oil Secretary S Sundareshan to discuss defaults by his group firm Kingfisher Airlines on payment of jet fuel bills, but did not say when he will clear the outstanding of Rs 176 crore (Rs 1.76 bilion).
Mallya is believed to have told the Secretary that he cannot settle dues Kingfisher Airlines owed to Hindustan Petroleum Corp Ltd (HPCL) across the table, sources in the know said.
The 45-minute meeting was inconclusive, they said. Mallya refused to take questions saying "all Kingfisher aircraft are flying" and that his firm was getting aviation turbine fuel (ATF) supplies.
HPCL has since this month put Kingfisher Airlines on cash-and-carry after it failed to furnish a bank guarantee as cover against any future defaults. The state-owned firm is Kingfisher Airline's largest aviation turbine fuel (ATF) supplier.
The airline buys 1,300-1,350 kilolitre of jet fuel worth some Rs 133 crore (Rs 1.33 billion) every month. It purchases jet fuel (or ATF) on a 60-day credit.
The cash-strapped airline had, however, run an outstanding of Rs 298.80 crore (Rs 2.98 billion) over and above the agreed credit period as on March 4.
This was reduced to Rs 122.17 crore (Rs 1.22 billion) in May but has now gone up to Rs 176 crore, sources said. The Vijay Mallya-owned airline had agreed to submit a bank guarantee of Rs 250 crore (Rs 2.5 billion) by June end.
This collateral could be encashed by HPCL in case Kingfisher was to default in future. Sources said the airline has however not kept its word and has till date not furnished the bank guarantee.
The airline, they said, was also to sign legally binding settlement agreement for payment of outstanding. Kingfisher Airlines spokesperson could not be immediately reached for comments.
Oil ministry had in March asked HPCL to invoke the corporate guarantee given by Vijay Mallya's United Breweries (UG) Group to recover dues and supply ATF in future only against a bank guarantee.