One of the frontrunning public sector banks of India, Punjab National Bank is projected to have a business of Rs 10 lakh crore (Rs 10 trillion) by 2013.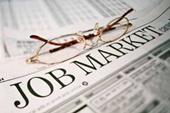 It registered a business of Rs 4.35 lakh crore (Rs 4.35 trillion) in March this year. The progress, however, could soon be hit by shortage of staff.
According to the general secretary of the All India PNB Officers' Association, K D Khera: "The bank has a staff strength of about 57,000 in all cadres.
Of this, one-third would retire by 2013. The management did not draw any road map to fill in for the manpower crunch, which will be created by the employees superannuatingin this number."
The lack of a succession plan would most likely have an effect on the bank's business too, added Khera.
The General secretary of All India PNB Employees' Federation, P R Mehta, said: "Employee salaries and other benefits constitute 16 per cent to 20 per cent of the total expenditure of the bank. The bank has been consistently banking good profits.
"Therefore, recruiting another 15,000-20,000 across all cadres is a viable option for the functioning to continue smoothly."
The last planned recruitment by the bank was conducted in 1980. There has hardly been any large-scale hiring ever since, Mehta added.
"A public-sector bank carries out operations in semi-urban and rural areas. The management should not compare us to the new generation banks, as they outsource many of their services.
"This brings the employee to branch ratio lower in our banks," said Asish Sen, president of the All India PNB Officers' Association.
Reiterating the bank's lack of preparedness, Sen said the alternative delivery channel services of PNB would also be affected due to the staff shortage.
The association is believed to have had discussions with the management but a decision has not been taken so far.
"If the management does not not draw up a plan of action, we'll resort to protests to make our worries heard," Sen said.
Despite repeated efforts, the management was unavailable for a comment.