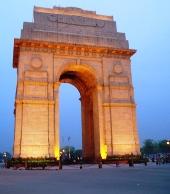 Inflation-hit Delhiites can breathe a little easy with Delhi Government today slashing the value added tax on diesel to 12.5 per cent from the existing 20 per cent which would bring down the fuel prices by Rs 2.70 per litre to Rs 37.50 per litre in the city.
The decision to decrease VAT on diesel from 20 per cent to 12.5 per cent was taken at a cabinet meeting today presided over by Chief Minister Sheila Dikshit.
Later talking to reporters, she said that the rate has been reduced as Delhi government was losing on revenue from diesel after it increased VAT on it in last Budget.
"People were preferring to go to the neighbouring states like Haryana and UP to purchase diesel. That is why we have decided to cut down the VAT by 8 per cent," Dikshit said.
Delhiites were shelling out Rs 40.10 per litre on diesel after its prices were deregulated by the Centre but the state government's move, which would be effective from July 20, will benefit them by Rs 2.70 per litre.
In the last Budget, the Delhi government had hiked VAT on diesel from 12.5 per cent to 20 per cent increasing its price by Rs Rs 2.37 more per litre.
Finance Minister A K Walia while presenting the budget had defended the diesel VAT hike by citing examples of other states like Madhya Pradesh and Punjab, saying that they charge a far higher VAT on diesel than Delhi.