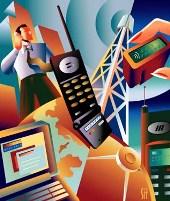 Anil Ambani group company Reliance Communications said on Monday it has added 2.8 million new wireless subscribers in June this year, taking its total subscriber base to 110 million.
The company added 2.8 million wireless subscribers on its Global System for Mobile Communications and CDMA platforms in the month of June, RCom said.
RCom offers telephony services on both GSM and Code Division Multiple Access platforms.
The company has added 8.4 million new wireless customers in this quarter, the spokesperson said.
With an addition of 16.3 million new users in May, the total wireless subscribers in the country were 617.53 million at the end of May 2010, according to the sectoral regulator Telecom Regulatory Authority of India.