The Farnborough International Air Show has unveiled a model of the full length Bloodhound supersonic car.
According to the British Broadcasting Corporation, the 1:1 replica of the 12.8m-long (42ft) Bloodhound SuperSonic Car is the result of three years of aerodynamic study.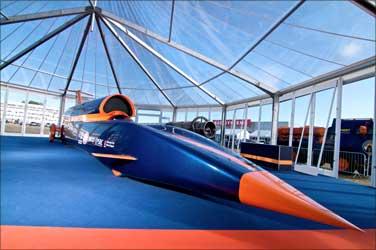 The British team involved with the project has announced that aerospace manufacturer Hampson Industries will begin building the rear of the real vehicle in the first quarter of 2011.
They added that another deal to construct the front end with a second company is very close.
"We now have a route to manufacture for the whole car. We would hope to be able to shake down the vehicle on a runway in the UK either at the end of 2011 or at the beginning of 2012," chief engineer Mark Chapman told BBC News.
To claim the record, the vehicle will have to better the mark of 763mph (1,228km/h) set by the Thrust SuperSonic Car in 1997.
The team believes Bloodhound''s superior aerodynamic shape, allied to the immense power of its Falcon hybrid rocket and Eurofighter-Typhoon jet engine, will take the blue and orange car beyond 1,000mph (1,610km/h).