In a major setback to the IRCTC, Railways have decided to strip the PSU of its catering responsibilities in Rajdhani, Duronto, Shatabdi and all other mail and express trains.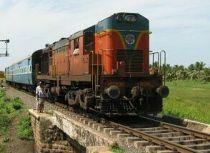 The Catering Policy-2010 finalised by Railways have clearly spelt out that "Railways shall progressively take over management of all mobile catering services including base kitchens, pantry cars and all food stalls in railway premises".
At present, Indian Railway Catering and Tourism Corporation Ltd, a Railway subsidiary, is responsible for serving food in about 300 trains including in premier trains like Rajdhani, Duronto and Shatabdi.
With this move, IRCTC will forgo at least Rs 200 crore (Rs 2 billion) catering business, said a senior IRCTC official.
Railway Board will now determine the menu and tariff for the standard meals, breakfast, tea, coffee and catering charges for meals, etc., which are included in the fare.
The new policy comes in the wake of increased passenger complaints about the quality of food served onboard trains and in stations.
IRCTC will now be responsible for selling e-ticket and i-ticket and running the Rail Neer business.
Besides, it will manage Food Plaza, Food Courts, fast food units.
However, the policy has stipulated that "all such contracts presently being managed by IRCTC, on expiry of the contract period, will be awarded by the zonal railways in a phased manner".
IRCTC will not renew any contract required to be handed over to zonal railways on expiry of the contract.
At present, there are about 65 food plazas across the country. Railways will now formulate operating guidelines to implement the new catering policy.
Plagued with passenger complaints, Railway Minister Mamata Banerjee had stated in her Budget speech this year that a new catering policy will be announced to improve the food quality.
Incidentally, IRCTC was formed during Mamata Banerjee's regime in 2001. The Jan Ahaar outlets started recently by Railways to provide affordable meals to all class of people will also be managed by zonal railways.
The policy took over a year to be finalised. The last policy catering policy was formulated during Lalu Prasad's regime in 2005.