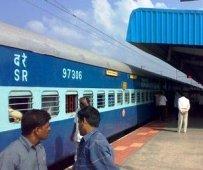 Indian Railway loco pilots could soon be seen sporting a ring in their hand which would help them stay alert and generate warnings in the event of them falling asleep.
The ring would be a 'biometric device' which the Railways are introducing shortly, alarmed over the spurt in accidents.
"Realising the fact that 80 per cent of the accidents are due to human failure, Railways have decided to incorporate this technology which will constantly monitor the condition of the loco pilots," a senior railway ministry official said.
The decision comes in the backdrop of the July 19 accident in Sainthia where the drivers' actions were found to be very 'unusual'.
The driver of one of the trains was alerted by the station master over walkie talkie and asked him to stop the train as the signal was red and there was already a train on the platform.
But he did not respond and seconds later the deadly collision took place, which claimed about 66 lives.
"The device -- the drivers vigilance telemetric control and monitoring systems -- will be introduced from August on a trial basis," the official said, adding it could also be used as a band.
Trials, using 20 such devices, will begin with loco pilots handling mail and express trains in the South Central Railway and among loco pilots operating freight trains in Kottavalasa-Kirandul line under the East Coast Railway.
The device could be introduced in other zones if the trials prove successful, the official said.
Explaining the unique features of the device, he said as it is attached to the body, it will identify situations where the loco pilot is likely to fall asleep or become incapacitated much before the actual occurrence of the event.
"It is programmed to generate audio-visual warning for a pre-determined and if it goes unacknowledged by the drivers, the emergency brakes would be applied automatically," he said.
The decision comes close on the heels of Railways issuing advisories to loco pilots to be on alert and ensure proper functioning of existing safety-related devices in locomotives like the 'vigilance control device'.
Besides, it has decided to install the VCD in all the remaining 3200 electric locomotives after the Sainthia train accident.
The VCD also alerts the drivers before it applies automatic brakes. Railway Minister Mamata Banerjee has, meanwhile, held several rounds of safety-related meetings with top railway officials to take steps for preventing rail accidents.