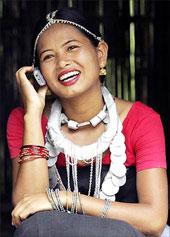 The United States-based mobile chip maker Qualcomm today sold 26 per cent stake in broadband unit in India to Tulip Telecom and Global Holdings for $57.72 million (about Rs 268 crore).
Qualcomm had acquired Broadband Wireless Access (BWA) spectrum in four circles in the auction held last month and the company has to induct an Indian partner with at least 26 per cent equity to be able to get telecom licence as per the rules.
The company has sold 26 per cent stake--divided equally between telecom networking firm Tulip Telecom and Global Holdings, owners of telecom infrastructure firms GTL Ltd and GTL Infra, Qualcomm said.
"The enterprise value is $1.11 billion, the equity portion is $222 million and $888 million is debt. Tulip and Global Holdings have (jointly) taken 26 per cent stake for $28.86 million each," Qualcomm India and south Asia president Kanwalinder Singh said.
Qualcomm had recently formed its India unit after its $1-billion purchase of BWA spectrum.
The company is looking at offering high-speed Internet services to boost sales of smartphones and the chips that power them.
Qualcomm sells chips used in cellphones and is a pioneer in CDMA-based wireless technology.
India is the world's fastest growing mobile market with more than 600 million mobile phone users.