Anil Ambani Group firm RCom has demanded that the government should increase the spectrum limit for CDMA players and release more spectrum for their growth.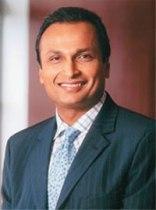 "CDMA spectrum limit should be raised to 7.5 Mhz in respect of Delhi and Mumbai and 6.25 Mhz in the rest of the country against the proposed limit (as suggested by TRAI) of 6.25 and 5 Mhz respectively," RCom said in a letter to Telecom Minister A Raja.
It said TRAI has proposed an 8 Mhz limit for GSM spectrum in the rest of the country and 10 Mhz for Delhi and Mumbai, whereas the spectrum limit for CDMA operators was restricted to 6.25 Mhz.
"The authority has further increased the non-level playing field and discrimination, which has further risen in Delhi and Mumbai, where TRAI has suggested 10 Mhz limit for GSM and only 6.25 Mhz for CDMA technology," it said.
The company has also asked the regulator to recommend a growth path for CDMA players. DoT has already auctioned 3G spectrum in the 2,100 Mhz band, which is the forward path for the GSM players.
"DoT has not included the auctioning of 800 Mhz band for EVDO operations, which is a forward path for the CDMA operators. Make spectrum available for CDMA operators for their growth path and to have a level playing field," it said.
The company told the minister that TRAI has recommended refarming (re-use) of the spectrum at the time of license renewal, which it said would delay the process by another five years, since most of the licence renewals would come up after 2014 onwards.
"This will deprive the new telecom operators the advantages of refarming and the premium 900 Mhz spectrum will continue to be in the hands of a few old GSM players," the company said.
TRAI had suggested in its spectrum pricing recommendation that spectrum in the 800 and 900 Mhz bands should be refarmed at the time of licence renewal.