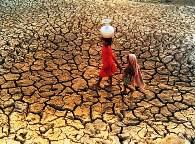 Rise in temperature can cause crop failure and make growing belts shift to higher altitudes, according to an Indian Council of Agricultural Research (ICAR) study on climate change.
"A rise in temperature reduces crop duration, increases crop respiration rates, affects the equilibrium between crops and pests, hastens nutrient mineralisation in soils, decreases fertiliser use efficiencies and increases evapo-transpiration," the study said.
According to ICAR, during the period between 1901 and 2005, there has been an increase of 0.50 degree Celsius in the country's annual mean temperature and more warming in recent decades.
The study pointed out that the long-term variation in the mean annual temperature of the country for the period between 1875 and 2004 was of the order of 0.030 degree Celsius per decade, while that between 1971 and 2004 was around 0.220 degree Celsius per decade.
"Modeling studies of ICAR have also predicted the likelihood of adverse effect of temperature rise on production and productivity of food grains, especially rice and wheat." Meanwhile, a rise in carbon dioxide levels is beneficial for crops such as wheat, rice, legumes and oilseeds, it said.