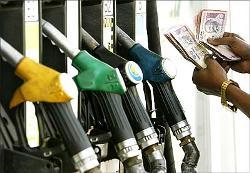 The government may, from next week, find it easier to decontrol petrol and diesel prices as softening global rates would require fuel costs to be raised by just Rs 3.50 a litre for the purpose.
An empowered group of ministers, headed by Finance Minister Pranab Mukherjee, is scheduled to meet on June 7 to consider a Kirit Parikh Committee report that calls for the freeing of petrol and diesel prices from governmental control, besides steep hikes in liquefied petroleum gas and kerosene rates to cut fuel subsidy.
"Earlier, there were doubts if the government would actually free auto fuel prices -- particularly that of diesel -- as the hike required to make them at par with international rates was over Rs 6 per litre. But the fall in global oil prices has made the task easier," an oil ministry official said.
The EGoM will have to raise the price of petrol by Rs 3.35 per litre and that of diesel by Rs 3.49 a litre to free them from government control.
Petrol in Delhi currently costs Rs 47.93 a litre, while diesel is priced at Rs 38.10.
International crude oil prices have shaved off over $10 per barrel to bring them down to $72-74 a barrel.
"The hike needed to free auto fuel prices till last week was Rs 6.07 a litre in petrol and Rs 6.38 a litre in diesel. Raising prices, particularly that of diesel by such an amount in one go, was considered politically difficult," he said.
"Things have, however, changed now," the offical added. The revenue loss that state-owned Indian Oil Corporation, Hindustan Petroleum and Bharat Petroleum incurred on fuel sales came down to Rs 203 crore (Rs 2.03 billion) per day, from Rs 255 crore (Rs 2.55 billion) a day till last week.
They currently sell petrol at a loss of Rs 3.35 a litre, while that for diesel is Rs 3.49, Rs 18.82 for public distribution system kerosene and Rs 261.90 for every 14.2-kg LPG cylinder.
The official said the EGoM may not agree with the Parikh committee's recommendation of raising the kerosene price by Rs 6 per litre and LPG rates by Rs 100 per cylinder.
"To my mind, a Rs 20-25 per cylinder increase in LPG price may be approved," he added.
Besides Mukherjee, the EGoM on fuel prices also includes Oil Minister Murli Deora, Agriculture Minister Sharad Pawar, Chemical and Fertiliser Minister M K Alagiri, Railway Minister Mamata Banerjee, Road Transport Minister Kamal Nath and Planning Commission Deputy Chairman Montek Singh Ahluwalia.
State retailers are projected to lose Rs 72,300 crore (Rs 723 billion) in revenue this fiscal if fuel prices do not change.
According to the terms of reference, the EGoM is to consider a pricing policy for petrol and diesel, including decontrol, he said, adding that it also has to decide on ways to bridge the deficit between the imported rate and retail price of LPG and kerosene.