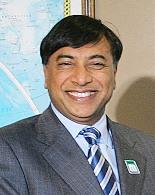 Global steel giant ArcelorMittal on entered into pact with the Karnataka government to set up a Rs 30,000 crore (Rs 300 billion) plant and hoped that the project would come up faster compared to its plans in Jharkhand and Orissa.
"We are pleased with the progress and today we have signed an MoU with the Karnataka government. We hope that we will make fast progress and the project can come up faster than compared to other states (Jharkhand and Orissa)," ArcelorMittal Chairman and CEO Lakshmi Mittal said at the ongoing two-day Global Investors Meet in Bagalore.
Mittal had entered into an initial agreement with Karnataka government to set up an estimated six million tonnes steel plant in iron ore rich Bellary district.
The company has been struggling to launch its proposed Rs 1 lakh crore steel projects in Orissa and Jharkhand (12mpta each) for about five years now which are stuck due to regulatory hurdles and problems in land acquisition.
"If we see progress in Karanataka ahead of other states, this project will take first priority," Mittal said. During his last visit, Mittal had criticized India's policies, saying it was not ready for big ticket investment.
Referring to projects in Orissa and Jharkhand, he said, "In other states, we have a lot of other issues in connection with not only land, forest approvals, environment clearances and protest. So the progress is slow".
"So, there is a lot of milestones to be achieved before we can say we are happy with the progress (made in other states)," he said.
The world's largest steel maker is now looking for an alternate site Jharkhand while going slow on its proposed project in Orissa.
"In Karnataka, we have already got land allocation and we have been assured by the government that other requirements will be processed speedily.
That is whey we believe the progress will be better," he said. To a question whether there had been trade-offs given the fact he was now focussing more on Karnataka than on Jharkhand and Orissa, he said, "ArcelorMittal believes in growing in India and there is no trade-off.
"What is happening is priorities will change depending on approvals and market development. If see that progress in Karnataka is ahead of others, then this project will get priority."
Asked when the project would be completed Mittal said it would take 36 months "once the foundation begins, foundation means once the land is acquired, engineering done, then start counting the time".
"We don't know how long the race is and how many hurdles are there. But we are encouraged by the support of the state government."