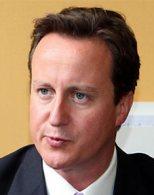 Prime Minister David Cameron on Monday accused the previous Labour government of "reckless" spending as he warned that Britain's deficit is "even worse" than thought.
In a keynote speech on the economy, the Prime Minister accused Labour of "reckless" spending and said the public sector had to be brought "back into line".
He said if drastic cuts are not implemented, the Treasury will be spending an annual 70 billion pounds on debt interest within five years - more than on schools in England, transport and fighting climate change put together.
Speaking alongside new Treasury Chief Secretary Danny Alexander, Cameron told an audience in Milton Keynes that now the Conservative-Liberal Democrat coalition had been given access to the books, it is clear that the "overall scale of the problem is even worse than we thought."
"How we deal with these things will affect our economy, our society - indeed our whole way of life," he said, adding
the decisions we make will affect every single person in our country. And the effects of those decisions will stay with us for years, perhaps decades, to come".
"It is precisely because these decisions are so momentous, because they will have such enormous implications, and because we cannot afford either to duck them or to get them wrong that I want to make sure we go about the urgent task of cutting our deficit in a way that is open, responsible and fair," he said.
The prime minister said his government wants to carry out the unavoidable deficit reduction plan in a way that strengthens and unites the country.
"I have said before that as we deal with the debt crisis we must take the whole country with us - and I mean it".  The Prime minister said "based on the calculations of the last government in five years' time, the interest we are paying on our debt is predicted to be around 70 billion pounds. "That is a simply staggering amount...Today we spend more on debt interest than we we do on running schools in England".
He said 70 billion pounds means spending more on debt interest than we currently do on running schools in England plus climate change plus transport. "Interest payments of 70 billion pounds mean that for every single pound you pay in tax, 10 pence would be spent on interest."
He said the UK's position was better than that of Greece, which has been left in financial and social turmoil in the wake of the credit crunch.
© Copyright 2021 PTI. All rights reserved. Republication or redistribution of PTI content, including by framing or similar means, is expressly prohibited without the prior written consent.