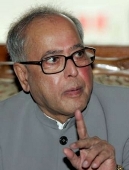 India's proposal to regulate banks instead of imposing a tax to fund future bailouts was 'by and large accepted' at the recently concluded meeting of G-20 finance ministers in South Korea, Finance Minister Pranab Mukherjee said.
Mukherjee, who returned from Busan on Sunday, said that India had suggested to the rich nations that it was better to regulate banks through policy instruments like the cash reserve ratio rather than imposing a tax.
CRR is the portion of deposits that banks are required to keep with the central bank.
"On the financial regulation, we are not in favour of having taxation on the banks. We suggested that ultimately you please take it up through the regulatory route...By and large it was accepted," he said.
Mukherjee advised European and American policymakers to follow regulatory mechanism on the lines of the Indian banking system.
India, Australia and Canada are opposed to the proposal to tax banks to fund the cost of future bailouts and financial institutions while the European Union, the US, and Britain are in its favour.
Referring to the risks that the crisis in Greece could pose to the global economy, the finance minister said, "It is Europe's responsibility to contain the contagian...because faster recovery in Europe is essential for the developing countries both for foreign direct investment and exports."
Europe accounts for 20-22 per cent of India's exports of about $176 billion. Mukherjee conveyed it to the finance ministers and the chiefs of the central banks of the 20 most influential countries in the world that the global recovery was still fragile.
"We analysed the overall global financial situation, and in that context I gave my perception that still the recovery is fragile. In between, the events in the euro zone, particularly the crisis in Greece, have taken place," he said.
The G-20 finance ministers meeting took place weeks ahead of the summit of the grouping, which will be attended by Prime Minister Manmohan Singh in Canada.
Image: Pranab Mukherjee