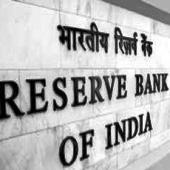 The Union finance ministry's chief economic adviser, Kaushik Basu, has said it would be best for the Reserve Bank of India not to tighten the cash reserve ratio, given the credit demand situation in the country.
CRR is the proportion of deposits each bank must keep in the form of cash.
The government should withdraw its earlier fiscal stimulus, but gradually and without hurting investment and job growth. And, RBI should increase key policy rates likewise, to return to "normal" times, he said.
Basu said India had started withdrawing fiscal stimulus sooner than other countries but the country needed to watch its steps.
"The direction is clear. The fiscal stimulus has to be withdrawn -- this is not a medicine meant for prolonged use. But, I do not think it is time for complete withdrawal; the process has to be gradual -- the way some steroids need to be tapered, rather than stopped abruptly," he said in an interview with Business Standard.
External events

The chief economic adviser also said recovery had already started in India, but -- in an apparent reference to the European crisis -- one could not be unmindful of what was happening in other countries.
The Greek sovereign debt crisis and the fears of more trouble in Spain and Hungary have caused concerns of another round of slowdown among the global community, this time triggered by the fiscal health of economies.
Stating RBI had to decide the timing of rate hikes and there were two sets of inflation data that will come out before the July review of monetary policy, he said, "I personally believe that, given the credit demand situation in the country, it is best not to tighten CRR at this time."
In response to the global slowdown, RBI had adopted a more accommodative monetary policy since October 2008. The repo rate, the short-term rate at which the central bank lends to commercial banks, was almost halved. However, it had started reversing this 'soft' stance from March this year.
Inflation, especially food inflation, has been a major concern for the government.
"My view is that the policy rates should go up, though not for reasons of inflation, which is anyway tapering off, but because we want to go back to normal times," Basu said.
He said it was expected that the rates would gradually go back to 'neutral rates' in 'normal times', but the timing of increasing rates had to be decided by RBI, keeping into account inflation, as well as growth.
He agreed inflation was a concern but said the government should not over-react to this, by taking measures which would lower investment and raise unemployment.