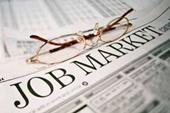 The State Bank of Hyderabad, an associate bank of SBI, will recruit 2,000 clerical and 600 supervisory staff during the present financial year, about 300 of whom will be deployed in rural branches to develop the bank's agricultural loan portfolio.
"This is in addition to the 600 supervisory officers, who were interviewed last year and would be joining us in the next two months," said managing director Renu Challu.
Addressing reporters here, Challu said the bank was looking at a 22 per cent growth in its credit flow this year on the back of a huge demand from sectors like infrastructure, power, roads, hospitality, and steel and cement.
"With enhanced focus, we anticipate a 35 per cent growth in the micro, small and medium enterprises sector to Rs 32,000 crore (Rs 320 billion) this year," she said.
To open 230 branches

SBH is gearing up to open 230 branches this year. It is awaiting licences from the Reserve Bank of India for 89 branches, while the remaining 141 do not require any licence as they are in areas with a population of less than 50,000.
"Our aim is to strengthen our footprint in AP by adding 140 of these proposed branches in the state," Challu said, adding the bank had applied for five licences for Uttarakhand and two for Chhattisgarh. "We expect to foray into these two state by the end of this fiscal."
Launches 2 new products, services
The bank on Sunday opened its first-ever currency management branch to better sort out soiled and counterfeit notes and make cleaner notes available across the counter, and an SMS Feedback facility wherein the customer can expect a customercare representative to contact her within 24 hours to address grievances.
Challu said the CMB service will initially be linked to 28 branches in Hyderabad and will gradually be extended to its other chest branches across the country in due course.
It also launched SBH Gen-X, a savings account to address the special needs of the generation between 18 and 30 years.
'Gen-X' with features like free collection of one cheque per month with a ceiling of Rs 20,000 and immediate credit for outstation cheques up to a ceiling of Rs 30,000 and free demand draft or banker's cheque (one per calendar year) favouring educational institutions or for applying for a job -- will be available at all our metro and urban branches," she said.
The bank launched a new loyalty reward programme for retail internet banking wherein every transaction will earn one point and after 400 points accrued, Rs 100 will be debited to the customer's account.