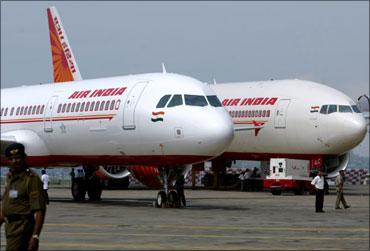 Capt Gustav Baldauf, first chief operating officer of Air India said on Tuesday the government was clear that the ailing national carrier has to be turned around, noting that detailed plans, including adding new destinations, have been prepared for immediate implementation.
"Government has made a clear statement that it wants the airline to change and improve.
It has allowed independent directors to be on the airline's board.
There is a clear understanding in the board and the government on the targets," Baldauf told PTI on the sidelines of the annual general meeting of the International Air Transport Association in Berlin.
Asked how would he deal with the different work culture in Air India as it was a government organisation, Baldauf, who earlier worked in Jet Airways as vice president (operations), said, "I know it is a different process. It is not a private company.
"But we definitely have systems in place. It is easier to work in a government environment. There is a big, big potential in this company."
"The stake holder (government) would tell the board what it wants, and the board in turn would tell the executive what to do. Everyone knows what the problem is. So we have to give them clear targets on which they will have to work and accomplish those targets", he said.
The new COO, an Austrian national, said plans have been worked out for improving the operations and financials of Air India, but he would be primarily involved with operational issues.
He, however, did not give any details. To a question whether he would be able to work with the 'same speed' in decision-making as during his stint with Jet Airways, Baldauf said, "we cannot expect the same speed, but I am confident that the results will be the same as in the case of Jet Airways".
Air India CMD Arvind Jadhav, who is also in Berlin to attend the IATA meet, said all legalities and the salary packages have been worked out and Baldauf has signed the contract of appointment.
Baldauf, who has also worked as executive vice-president (flight operations) in Austrian Airlines and Air Canada earlier, said he has just received his employment visa approval from the Indian government.
He would be the first expatriate in the management team of the country's flag carrier. He said plans had been put in place for achieving a turnaround for the organisation.
"We have to break it (the plan) into pieces and implement them."
Burdened by high fuel and labour costs, cash-strapped Air India suffered a net loss of Rs 5,548 crore (Rs 55.48 billion) in 2008-09, as its total revenue fell to Rs 13,479 crore (Rs 134.79 billion) in FY'09 from Rs 15,252 crore (Rs 152.52 billion) during the previous fiscal.
The government has said that the losses of Air India were coming down and admitted that there were 'some issues' which were affecting the process of its merger.
Asserting that Air India 'was and will remain a national carrier' under the United Progressive Alliance regime, Civil Aviation Minister Praful Patel recently said the government was fully committed to supporting National Aviation Company of India Limited which runs the merged carrier.
It has already infused Rs 800 crore (Rs 8 billion) as equity into it last year and would give Rs 1,200 crore (Rs 12 billion) in this fiscal.
© Copyright 2021 PTI. All rights reserved. Republication or redistribution of PTI content, including by framing or similar means, is expressly prohibited without the prior written consent.