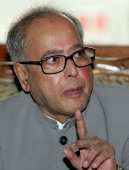 Finance Minister Pranab Mukherjee on Tuesday asked banks to step up their performance to ensure the 20 per cent credit growth projected by the central bank is achieved this financial year.
At the same time the finance minister, who addressed the annual general meeting of the Indian Banks' Association this evening, asked banks to keep an eye on asset quality.
He also warned that weaker banks might come under pressure to maintain profitability.
"Banks may no longer enjoy windfall treasury gains that the decade-long secular decline in interest rates had earlier provided. This may expose the weaker banks."
Mukherjee expressed serious concerns over the rising levels of non-performing assets in banks and said this can lead to quasi-fiscal liabilities.
"From a macro-economic policy point of view, rigidities in lending rates that result from the large stock of NPAs dampen the effectiveness of monetary policy.
"In addition, to the extent that the public sector banks have to be recapitalised by the government because of the credit losses, the NPAs represent a source of quasi-fiscal liabilities."
Another challenge would be on management of human resources. He said that the performance appraisal system also needs to be made more effective and systematic and initiatives for employee retention need to be worked out.
He asked large public sector banks to take a lead in implementing International Financial Reporting Standards  and urged them to explore the possibilities for adopting this standard by 2012. All banks are required to adopt it by 2013.
The finance minister has written to chief ministers of all states informing them of the financial inclusion plans for their states and requested them to support the banks' efforts in providing banking services to the villages.