State-run BHEL and France's Alstom have joined hands to jointly bid for the Rs 14,000 crore (Rs 140 billion) Chennai Metro Rail Project.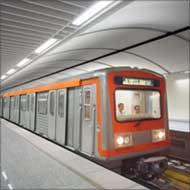 "We have signed an in-principle agreement with Alstom for the Chennai metro project," BHEL chairman and managing director B P Rao told reporters in New Delhi.
He, however, said that equity participation by both the firms is yet to be finalised.
"The agreement has been signed between us, but the equity portion is yet to be decided," Rao said.
The Chennai Metro Rail Project, which got Cabinet approval in January, 2009, will cover a total length of over 45 km, connecting Washermanpet and Chennai Airport and Chennai Fort and St Thomas Mount, with both corridors partially running underground.
Chennai Metro Rail Corporation Limited, a special purpose vehicle owned jointly by the Centre and the Tamil Nadu government on a 50:50 basis, is executing the project.
BHEL, along with Alstom, will bid to provide the necessary machinery for the project.
Meanwhile, BHEL is engaged in manufacturing equipment for power projects, defence and the auto sector as well.
It currently manufactures equipment that can generate 15,000 MW of electricity, which the company plans to scale up to 20,000 MW by the end of the 2012 fiscal.
"Right now, our capacity is 15,000 MW and it would be 20,000 MW by March, 2012," Rao added.