The "halal" version of Facebook launched by Pakistanis last month after a ban was imposed on the social networking website for featuring blasphemous caricatures is going strong with 333,000 users having signed up at the last count.
Millatfacebook.com, or "MFB" for short, was launched by six tech-savvy Pakistanis following a furore over the caricatures of Prophet Mohammed on Facebook.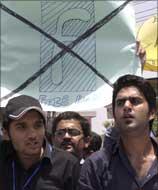 The Urdu word "millat" is used by Muslims to refer to their nation. "Dear brother/sister, congratulations and salam to over 330,000 Muslims already united as one Millat/Ummah at MFB. "Now we are doing an upgrade to ensure high speed for all our Muslim community..." reads a note by the creators on MFB. Though thousands of Pakistanis have joined MFB, not many have given a thumbs-up to it.
"The Halal Facebook for Pakistan? Soon there will be gender segregation there!" remarked an avid Facebook user in an online discussion on MFB. "We don't need another social network," said another Facebooker.
To join MFB, users are expected to "respect humanity," "respect beliefs of all people" and "not disrespect anyone". Though MFB has been dismissed by many as a poor Facebook clone, the number of users is rising by the day. "Millatfacebook is Pakistan's very own, first social networking site. A site for Muslims by Muslims where sweet people of other religions are also welcome," reads the welcome note at MFB, which aims to cater to 1.57 billion Muslims around the world.
Like Facebook, each member has a "wall" for friends to comment on. The site offers e-mail, photo, video, chat and discussion board facilities as well. Last month, a Pakistan court briefly blocked access to Facebook due to a contest for blasphemous caricatures.
Some furious internet users responded by shutting down their Facebook accounts, but Omer Zaheer Meer, one of the founders of MFB, decided to take a more practical approach and set up his own alternative.
"Basically the objective is to provide a platform for all people, not only Muslims, but nice and decent people of all faiths, to come together and interact in a way that is socially responsible by providing them all the freedom of expression (while) respecting each other's sensitivities and faiths...," Meer told a local newspaper.
MFB's administrators have blamed the CIA for posting Prophet Mohammed's caricatures, saying they have proof the IP address used for this purpose was connected to US secret services.
Facebook has yet to respond to its new Pakistani rival but Meer is confident his project will have a significant impact on the US-based company.
Image: Pakistani students shout slogans during a protest against Facebook in Lahore May 19, 2010. | Photograph: Idrees Boby/Reuters