The six-month moratorium on deep-water drilling in the Gulf of Mexico is likely to delay the deployment of idle rigs by Aban Offshore and impact the day rates for support vessels that companies such as Great Offshore supply.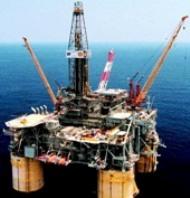 The accident involving Transocean's rig leased to BP that exploded in the Gulf of Mexico in April has triggered stringent regulations, including the moratorium. According to an estimate, there were 34 deep-water rigs in the Gulf of Mexico. Many of these are expected to get out and compete for contracts in other regions.
 
India's largest drilling company, Aban Offshore has 19 offshore drilling assets, with four of these being deep-water and the rest jack-up rigs used for shallow water drilling. Of these four deep-water assets, two (Aban Abraham and Deep Venture) are currently idle. These assets are also over 25 years old.
 
"To find a new contract, the company would have to face more competition. In fact, the company would find it increasingly difficult to place these assets at competitive rates," said Saeed Jaffery, an analyst with Ambit Capital, a domestic brokerage.
 
Aban Offshore is already under cash flow strain, as it has debt obligation of $1.02 billion by the end of the next financial year, against cash flows of $500 million and $240 million respectively from operations and insurance compensations.
Aban Offshore's Aban Pearl, drilling offshore Venezuela, sunk on May 13.
The company has insurance claim due for that. This leaves an unfunded portion of $285 million. The stock of the company lost 34.8 per cent to Rs 663 a share on the Bombay Stock Exchange since Aban Pearl sank. Aban Offshore officials could not be reached for their comments.
 
Another Indian drilling company, Great Offshore, has three drilling assets focused on the shallow water segment and hence not likely to get impacted for their rig operations. However, the company also has 44 assets, including 28 offshore support vessels and 12 harbour tugs.
 
"Reduction in deepwater drilling would also result in lower demand for support vessels and hence affect Great Offshore's earnings considerably," said Jaffery.
 
However, the company spokesperson said, "Great Offshore is isolated from the volatility of the spot market prevailing in the Gulf of Mexico, because a majority of its assets are on long-term charter in India."
 
The companies are also likely to feel pressure as the new norms would require higher cost. "We can expect higher cost in terms of meeting standards of health, safety and environment, along with increased insurance cost as the US comes with stricter safety norms for offshore activities," said Ajit Motwani, an analyst with Emkay Global Financial Services.