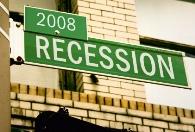 The global financial crisis that started in the later part of 2008 following the collapse of the Wall Street investment bank Lehman Brothers may be over but the cleaning up process is still on, said Chairman of Federal Deposit Insurance Corporation Sheila Bair on Tuesday.
"After many months of recession and job losses, the US economy is beginning to recover. Though substantial uncertainties remain, we are seeing gradual progress in terms of economic activity, and even signs that payrolls are starting to expand and bank loan performance is beginning to stabilise," she said.
However, she added that banks continue to set aside large provisions for loan losses, and failures continue at an elevated pace and the US banking regulator is now dealing with problems among smaller community banks with high concentrations of construction and commercial real estate loans.
FDIC insures over 600 million deposit accounts in almost 8,000 banks and thrift institutions. "During our 76-year history of FDIC, over 3,000 insured institutions have failed, but no insured depositor has ever lost a penny of insured deposits - and none ever will," Bair said.
Emphasising the need to improve both the level and quality of capital in financial institutions, Bair said many banks had increased their capital by issuing hybrid instruments, which qualify as regulatory capital but actually represent debt.
Such capital put illiquid assets in the trading book or in off-balance sheet structures to reduce capital requirements; or increasing portfolio risk in an opaque manner through the use of credit default swaps or riskier underwriting practices, she said.
As a result, there are efforts now to improve the level and quality of bank capital and the success of which will be 'critically important' Bair said.
The US government is now planning to address the shortcomings of the market and regulators that were brought to notice by the financial crisis.
"These shortcomings must be addressed in order to restore the vitality of our financial sector and prevent a recurrence of this episode in the future. To address these issues, the US Congress is considering financial regulatory reform legislation that is expected to reach President Obama's desk by July 4," Bair said.
The FDIC chairman expects these reforms will bring significant changes to the financial industry. "To my mind, the most important reform will be to create the authority to resolve large, complex financial institutions that get into trouble, without a taxpayer bailout," she said.
Sharing concerns that credit cards may come under stress, Bair said US authorities have tightened consumer protection norms. "I think the credit card is a wonderful innovation but it can certainly be misused. Credit card oversight will be an important focus," she added.