The World Bank has approved two projects worth $372 million, including the integrated coastal zone management project, to India.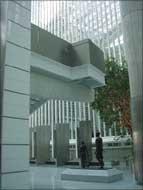 The World Bank said it has approved a $222 million International Development Assistance credit for the integrated coastal zone management project, while another $150 million IDA credit has been approved for additional financing for the ongoing Karnataka rural water supply and sanitation project.
The integrated coastal zone management project will help build the appropriate institutional arrangements, capacity and advanced knowledge systems needed to implement the national programme, the bank said.
The project will also help pilot this approach in three coastal states -- Gujarat, Orissa and West Bengal -- through a range of complementary local pilot investments in select coastal stretches to support state-level capacity building.
These investments include interventions such as mangrove plantation, regeneration of coral reefs, cleaning up of beaches, sewerage and solid waste management, conservation of cultural heritage, and a number of activities aimed at enhancing the livelihoods of coastal communities, the bank said in a statement on Tuesday.
"Among others, the project will support the mapping and delineation of hazard lines and ecologically sensitive areas, setting up a world-class national centre for sustainable coastal zone management, preparation of integrated coastal zone management plans -- each of which will be crucial to serve the long-term interests of the country," says Tapas Paul, World Bank Senior Environment Specialist and Project team leader.
The Karnataka rural water supply and sanitation project is part of a long-term programme of World Bank support to the Karnataka's efforts to increase rural communities' access to improved and sustainable drinking water and sanitation services.
Since 1993, two participatory bank-supported projects have already helped villagers in 4,166 villages of 23 districts plan, build and operate their own water supply systems.
The project has already brought clean drinking water to about five million people, taking the number of households having private water supply connections from 12 percent to 47 per cent in the project villages.
The additional finance will also help the government focus on improving the quality of water supply, the bank said.