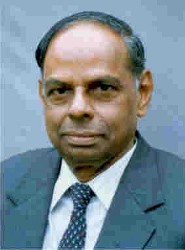 Prime Minister's Economic Advisory Council chairman C Rangarajan said on Thursday that banks should be discouraged from excessive risk taking to ensure a healthy financial system.
"There is no argument that the regulatory regime needs to be restructured ... Excessive risk taking and leveraging by banks need to be discouraged by appropriate regulatory measures or controls," Rangarajan said at a seminar organised by Skoch Foundation.
The regulatory regime should be re-structured to make the banking system more sound, he said.
Rangarajan also called for improvement in the country's corporate-bond market saying that this will help even small companies to raise adequate funds.
Image: C Rangarajan