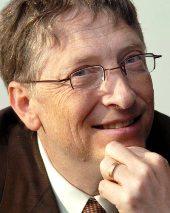 Warren Buffett and Bill Gates, two of the wealthiest people in the world, are urging rich Americans to pledge at least half of their wealth to charities.
Legendary investor Buffett along with Microsoft founder Bill Gates and his wife Melinda Gates are leading an initiative asking wealthy Americans to commit majority of their wealth for philanthropy.
"Now, Bill and Melinda Gates and I are asking hundreds of rich Americans to pledge at least 50 per cent of their wealth to charity," Buffett has written in a letter titled 'My Philanthropic Pledge'.
The letter was posted on the website of 'The Giving Pledge' initiative, being led by the three of them.
The US has more than 400 billionaires, according to the Forbes magazine. Well known for his wise investment decisions, the 79-year-old Buffett is the chairman of conglomerate Berkshire Hathaway that has invested in diverse companies.
"More than 99 per cent of my wealth will go to philanthropy during my lifetime or at death. Measured by dollars, this commitment is large. In a comparative sense, though, many individuals give more to others every day," the billionaire investor said.
In 2006, Buffett had pledged to give all the stocks he owns in Berkshire Hathaway to philanthropic foundations. Buffett said he has already distributed about 20 per cent of his Berkshire shares and would continue to 'annually distribute about 4 per cent the shares I retain.
'At the latest, the proceeds from all of my Berkshire shares will be expended for philanthropic purposes by 10 years after my estate is settled.
'Nothing will go to endowments; I want the money spent on current needs,' the letter noted.
This year, Gates and Buffett were ranked as the world's second and third richest people, respectively, by the Forbes, which pegged Gates' wealth at $53 billion and Buffett's at $47 billion.
Buffett said the pledge to donate wealth would not affect his and his children's lives. 'They (children) have already received significant sums for their personal use and will receive more in the future. . . I will continue to live in a manner that gives me everything that I could possibly want in life,' he wrote in the letter.
Image: Bill Gates