Billionaire Mukesh Ambani on Friday said his firm Reliance Industries will supply natural gas to Anil Ambani Group's power plants as and when they are ready to receive the gas.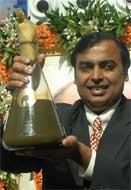 Addressing company shareholders, Mukesh mentioned the Supreme Court judgment upholding the company's stand that government has a major say in pricing and allocation of gas produced from RIL's eastern offshore KG-D6 fields and that RIL would supply gas to Anil Ambani group in accordance with government policy.
"With the legal dispute behind us, we look forward to harmonious and constructive relationship with ADAG," Ambani said at the meeting, for which Anil did not turn up as speculated in the market and media.
The supplies to Anil Ambani Group's power plants including the one proposed at Dadri near Delhi, will be subject to government approving the allocation of the fuel, Mukesh Ambani said.
The Supreme Court had last month asked the companies headed by the two brothers to rework a gas supply contract keeping the government policy on pricing and allocation in mind.
Mukesh, 53, however did not say when RIL will be entering into a new Gas Sales and Purchase Agreement with Anil's Reliance Natural Resources Ltd (RNRL) as had been ordered by the apex court.
The court had, on May 7, turned down gas to Anil-led RNRL from RIL's KG-D6 basin at prices arrived at in a 2005 private family agreement.
Photograph: Reuters