Reliance Broadcast Network Ltd (previously known as Reliance Media World Ltd), an Anil Dhirubhai Ambani Group company, told the stock exchanges on Sunday it proposed to enter the TV broadcasting space.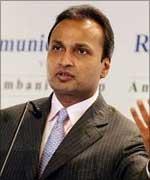 RBN said it intended to enter into a 50:50 joint venture (JV) with CBS Studios International, a wholly-owned subsidiary of CBS Corporation of the US, to own and operate a portfolio of television channels.
"In the event that negotiations with respect to the JV are successfully completed, the JV will initially include English general entertainment channels. The parties will explore owning and operating Hindi and regional language general entertainment channels in the future," was RBN's statement.
As proposed, the JV would include certain programming rights across India, Nepal, Bhutan, Sri Lanka, Bangladesh, the Maldives and Pakistan. This could see further geographical spread, on mutual consent.
RBN and CBS signed a non-binding Term Sheet on Sunday, which they intend to complete within a month, RBN said.
RBN operates a radio network under the brand name of BIG FM and is also into outdoor advertisements, promotions and events.