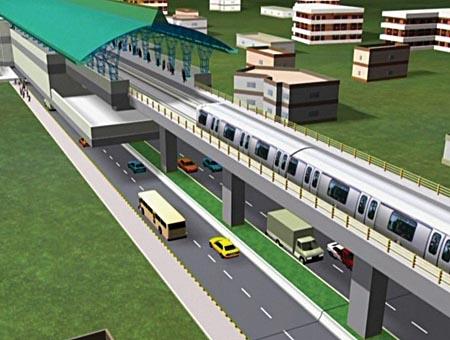 BEML Ltd, the public sector mining & construction, rail & metro and defence equipment maker, announced on Monday that it would supply first metro train set to Bangalore Metro Rail Corporation Ltd in October this year.
V RS Natarajan, chairman and managing director, BEML Ltd told reporters that the first mock up (model) car will be displayed for public view in July at Anil Kumble circle, from where the reach-1 of Bengaluru Metro will start.
The trial run will commence from October and the commercial run will take place in December.
"The Bangalore Metro is on schedule. We will be supplying the first train set to BMRCL in October this year," he said. BEML has secured an order valued at Rs 1,672 crore (Rs 16.72 billion) from BMRCL for supply of 150 standard guage metro cars and is likely to bag order for another 63 cars, he said.
In addition to Bangalore Metro, the company is also supplying metro coaches to Delhi Metro. Out of 192 coaches order, it has supplied 132 coaches till now to Delhi Metro.
"We are looking for orders from other cities like Chennai, Hyderabad and Mumbai. We have been pre-qualified for Chennai Metro and we will be bidding for Hyderabad Metro along with our partner," Natarajan said.
He said the company expects to bag one out of every two orders for supply of Metro coaches in the next 10 years in the country. This means an order book of Rs 20,000 crore (Rs 200 billion) from various Metro projects, he said.
Presently, BEML has a capacity to manufacture 25 metro coaches per month and apart from servicing its own orders, it is also looking at contract manufacturing opportunities from its competitors to make use of the idle capacity, he said.
In addition to this, he said BEML is also looking at manufacturing parts and spares for metro coaches, he added.
Apart from metro coaches, the company has also received orders from the Indian Railways for supply of coaches and wagons.
The company is all set to supply stainless steel wagons for the Indian Railways from December this year.