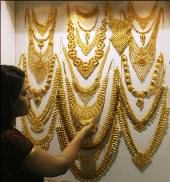 Gold imports have declined by over 50 per cent to 17 tonne in May as compared to the month-ago period due to surge in prices following the Euro zone crisis.
During April, the imports stood at 34.2 tonnes, as per data given by the Bombay Bullion Association.
Gold prices in May had touched a high of Rs 18,629 per 10 grams, while in the international it went up to 1,248.55 dollar an ounce (28.35 grams).
According to an analyst of brokerage firm SMC Global, the prices of the yellow metal sharply appreciated in the domestic market more so because of depreciation of rupee against dollar couple with the Euro-zone crisis, hence, impacting the imports.
Rupee fell from 44 to 47.5 against the American greenback in May.
While, the surge in gold prices in the global platform was mainly due to rise in investment demand in the European markets in the wake of weakening Euro triggered by Europe's financial turbulence and uncertainty in the global economic growth.
"In April, the imports went up mainly due to stockist buying for the marriage season in May. However, the buying declined in May as the prices surged," Bombay Bullion Association director Suresh Hundia told PTI.
He said the rising prices will have an immediate impact on the future imports as there will be a slowdown in physical demand.
Meanwhile, a Citi India report said that the rising gold prices, which further rose to Rs 19,198 this month, may affect the demand in the domestic market and give rise to recycling of old jewelleries.
"If prices continue to surge, similar to trends seen last year, we could see domestic demand being met by exchanging old items," it said.
Currently, on the Multi Commodity Exchange, gold July contract was trading at Rs 18,603 per 10 grams, while it was at $1,238 an ounce in the international markets.