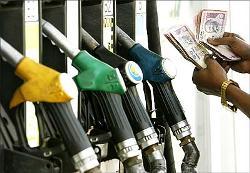 A ministerial panel will on Friday consider raising petrol and diesel prices by Rs 2-4 per litre, even as the government's key allies Trinamool Congress' Mamata Banerjee and Nationalist Congress Party supremo Sharad Pawar appear opposed to a fuel price hike.
The eight-member empowered group of ministers headed by Finance Minister Pranab Mukherjee will for the second time this month meet on June 25 to consider freeing petrol and diesel prices from government control.
"Friday is the meeting of EGoM," Oil Minister Murli Deora said but declined to elaborate on the agenda before the EGoM.
Banerjee and Pawar had abstained from the panel's first meeting on June 7, leading to postponment of a decision.
Sources said with Dravida Munnettra Kazhagam leader and Fertiliser Minister M K Alagiri on-board, the EGoM may push for freeing petrol prices, a move that will see rates in Delhi rising by Rs 3.73 a litre.
Petrol in Delhi currently costs Rs 47.93 per litre.
A similar decision on diesel would have resulted in rates going up by Rs 3.80 per litre but Banerjee and Pawar remain opposed to any increase in prices of a fuel that is used by transport and agriculture sector and has inflationary impact.
With global crude oil trading below $80 a barrel, Deora sees this as the last opportunity to usher in reforms in the sector which otherwise would need Rs 74,300 crore (Rs 743 billion) in doles to bridge the gap between retail prices and the imported cost.
In absence of a consensus on freeing diesel prices, the oil ministry may push for a minimum Rs 2 per litre increase in rates, sources said.
Freeing of petrol prices would reduce the Rs 74,300 crore (Rs 743 billion) deficit by about Rs 5,000 crore (Rs 50 billion).
A one rupee per litre hike in diesel prices would cut the losses by Rs 3,800-4,000 crore (Rs 38-40 billion).
Deora, who has on more than one occasion briefed the Prime Minister Manmohan Singh and EGoM head Mukherjee on the crisis that stares oil public sector units if no decision was taken, had twice tried for EGoM to meet last week but failed due to unavailability of ministers.
While there may not be any problem in freeing pricing of petrol, there were doubts about raising diesel prices that many feel would add to the already high inflation.
In May, WPI-based inflation provisionally entered double digits at 10.16 per cent. Sources said also on cards was a Rs 25 per cylinder hike in domestic LPG rates but it too has to pass the muster of Banerjee and Pawar.
State oil firms currently lose about Rs 215 crore (Rs 2.15 billion) per day on selling fuel below imported cost.
They lose Rs 3.73 a litre on selling petrol, Rs 3.80 per litre on diesel, Rs 18.82 a litre on public distribution system kerosene and Rs 261.90 on every 14.2-kg LPG cylinder.