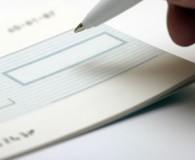 Clearing the confusion over honouring cheques with corrections, the Reserve Bank of India said this will be applicable only for cheques cleared under the image-based cheque truncation system (CTS).
According to a RBI notification, this has been introduced to curtail cheque frauds on account of alterations in cheques and protect customers as well as banks.
"Collecting banks should ensure, that such cheques are not accepted for presentment in CTS," RBI said.
Currently, the cheque truncation project is being run only in the Delhi.
This is not applicable to cheques cleared under other clearing arrangements such as MICR clearing, non-MICR clearing, over the counter collection (for cash payment) or direct collection of cheques outside the Clearing House arrangement .
The RBI had earlier stated that, "No changes or corrections should be carried out on the cheques (other than for date validation purposes, if required). For any change in the payee's name, courtesy amount (amount in figures) or legal amount (amount in words), etc., fresh cheque forms should be used by customers. This would help banks to identify and control fraudulent alterations."