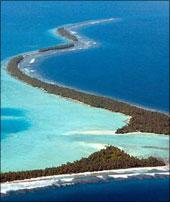 The International Monetary Fund has added island nation Tuvalu located in the Pacific Ocean between Hawaii and Australia as its 187th member.
The IMF's Articles of Agreement were signed in Washington by Minister for Finance and Economic Planning of Tuvalu Lotoala Metia, following which IMF Managing Director Dominique Strauss-Kahn met Metia at IMF headquarters.
"It is an honor for me today to welcome Tuvalu to the International Monetary Fund as our 187th member," Strauss-Kahn stated.
"Tuvalu's membership is a strong reminder of the importance of multilateralism and international cooperation in today's dynamic global economy. With its size and remoteness, Tuvalu faces a unique set of economic challenges. I am confident that Fund membership will help Tuvalu strengthen its economic footing," he said.
Tuvalu's initial quota in the IMF is SDR 1.8 million (about $2.7 million).
With the admission of Tuvalu the total members quota rises to SDR 217.43 billion (about $321.18 billion), the IMF said in a statement.
© Copyright 2022 PTI. All rights reserved. Republication or redistribution of PTI content, including by framing or similar means, is expressly prohibited without the prior written consent.