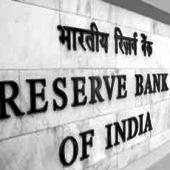 The Reserve Bank of India may wait for a few weeks before raising policy rates to contain inflation in view of tight liquidity in the system as well as global economic uncertainty, said a Citigroup report.
It maintained, however, that RBI's lending (repo) and borrowing (reverse repo) rates to banks will rise by 75 basis points (0.75 per cent) in 2010, in view of rising prices coupled with the surge in industrial production.
The RBI had last week said that it would come out with its quarterly monetary review on July 27, 2010.
While food inflation, which has been above 16 per cent for nine straight weeks, reached 16.90 per cent for the week ended June 12, the general inflation reached double digits at 10.16 per cent in May.
Some experts have said that RBI could tighten policy rates soon to check the price rise.
Others, however, maintain that since the banking system is facing tight cash conditions (because of payment for spectrum for high speed telecom and broadband services and advance tax outgo), RBI would wait for liquidity to ease before going for rate hikes.
In line with the latter view, Citigroup said, "Given uncertainties on the global scenario, the monsoon front and the current tight liquidity conditions, which have resulted in the overnight rate moving to the upper end of the corridor (repo rate, 5.25 per cent; reverse repo at 3.75 per cent), we could see the RBI wait for a few weeks before it raises rates." RBI had hiked the borrowing and lending rates by 25 basis points in its last review in April.
It had also raised the cash reserve ratio, the portion of money banks park with it by 25 basis points, sucking out Rs 12,500-crore of excess cash from the banking system.