With the global economy on its way to recovery amid debt crisis in some European nations, the G-20 countries on Monday called for striking a balance between stimulus measures to sustain economic expansion and reducing fiscal deficit to tackle the mess of government finances.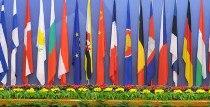 In a declaration after the two-day meeting of the grouping here, the countries also put out a compromise on the different stands of the member nations on bank tax by leaving it to the member countries to levy it or not, which is India's position.
The group, considered better representative body than rich nations grouping of G-8, resolved to continue with free international trade and refrain from protectionist measures.
"While growth is returning, the recovery is uneven and fragile, unemployment in many countries remains at unacceptable levels, and the social impact of the crisis is still widely felt. Strengthening the recovery is key," the declaration said.
To sustain recovery, there is a need to follow through on delivering existing stimulus plans, while working to create the conditions for robust private demand, it added. At the same time, it also noted,"...recent events highlight the importance of sustainable public finances and the need for our countries to put in place credible, properly phased and growth-friendly plans to deliver fiscal sustainability, differentiated for and tailored to national circumstances."
Those countries with serious fiscal challenges need to accelerate the pace of consolidation, it added. Advanced economies have committed to fiscal plans that will halve deficits by 2013 and stabilise or reduce government debt by 2016.
With India among other nations opposing global bank tax, the declaration said,"We recognised that there are a range of policy approaches... Some countries are pursuing a financial levy. Other countries are pursuing different approaches."
The declaration said the nations should have a prudential and supervisory norms for the financial sector.
It also said financial sector should make a fair and substantial contribution to the government interventions at the time of downturn. India's stand has been that prudent regulations also add to the cost of financial sectors and they could be considered their contribution.
"The G-20's highest priority is to safeguard and strengthen the recovery and lay the foundation for strong, sustainable and balanced growth, and strengthen our financial systems against risks," the statement said.
With the global economic crisis leading to the sharpest decline of trade in more than seventy years, G-20 nations renewed for a further three years till the end of 2013 their commitment to refrain from raising or imposing barriers to international trade and investment.