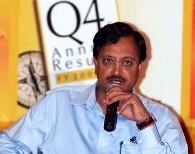 A local court on Tuesday directed the NIMS hospital in Hyderabad to file a fresh report regarding the health condition of former chairman of Satyam Computers B Ramalinga Raju, before it by July 1, even as CBI filed a memo seeking second opinion report through independent committee of doctors.
The XXI Additional Chief Metropolitan Magistrate Court trying the Satyam scam cases, called for a fresh report from NIMS Director, seeking to clarify whether Raju, is in fit condition for production before court under medical care while taking treatment as in-patient.
Raju, the prime accused in the multi-crore financial fraud in Satyam Computers, who is under judicial custody and undergoing treatment for Hepatitis-C at the Nizam's Institute of Medical Sciences (NIMS), is not attending the court proceedings since September last year citing health reasons.
Magistrate BVLN Chakravarti said medical report about health condition of Ramalinga Raju was last received on June 10. In its last report NIMS said Raju, would require another seven months of treatment for Hepatitis-C infection.
In view of Raju not appearing before the court, the premier investigating agency had sought the court's permission to establish video link with NIMS, to expedite the case.
Insisting on examining Raju, through video-conferencing, CBI counsel C Surendra, said Raju's non-appearance was resulting in abnormal delay in the case. The magistrate then posted the matter for final arguments to July 1.