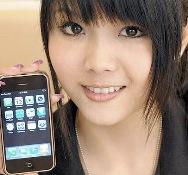 The number of phone users in China continued to grow rapidly with addition of 40.8 million new customers in the first five months of the year, surpassing 1.1 billion by the end of May.
"China added 40.8 million phone users during the January-May period, bringing the nationwide total to more than 1.1 billion in a country with a 1.3 billion population," the Chinese Ministry of Industry and Information Technology (MIIT) said.
"During the period, fixed-line telephone users dropped about 7.8 million to 306 million while mobile phone users jumped 48.5 million to 796 million, Xinhua news agency reported.
The number of Chinese broad-band Internet users however jumped nearly 9.8 million to 113 million by the end of May.
The telecommunications industry recorded about 1.23 trillion yuan ($181 billion) of business in the five-month period which was, up by 21.6 per cent year on year, it said.
© Copyright 2020 PTI. All rights reserved. Republication or redistribution of PTI content, including by framing or similar means, is expressly prohibited without the prior written consent.