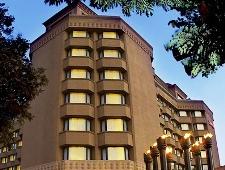 The average price of hotel rooms have fallen by 14 per cent during 2009, a survey has said.
While prices of hotel rooms could further drop this year as, "The year 2010 promises to be another great year for travellers," according to a report by Hotels.com, provider of hotel accommodation worldwide.
The survey -- Hotel Price Index -- noted that the average price of a hotel room was 14 per cent lower last year than in 2008. People in Latin America have spent the least amount on hotel rooms, followed by Asia, the US and Europe, the survey said.
In fact, the average price of a hotel room across the world was cheaper in 2009 than it was in 2004, when the HPI began.
However, towards the end of 2009, the rate at which the average price of hotel room fell started to slow down.
The average price of a hotel room fell by just 7 per cent year-on-year in the fourth quarter of 2009, compared to 14 per cent in Q3, 17 per cent in Q2 and 16 per cent in Q1.
"Our latest HPI, covering 2009, shows that prices fell globally by 14 per cent on already weak 2008 figures, bringing consumer prices back to levels not seen since 2003," Hotels.com president David Roche said.
Hotel rates dropped 19 per cent in the fourth quarter in Asia compared to 17 per cent in the second and third quarter and 15 per cent in the first quarter.