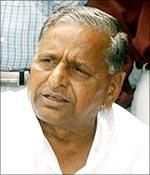 Samajwadi Party supremo Mulayam Singh Yadav on Tuesday said the opposition was equally responsible for failing to create awareness among masses on the issue of price rise.
"It is a matter of serious concern that people are not raising their voice against soaring price rise, but the opposition leaders are equally responsible as they have failed to raise a movement on this issue," Yadav said.
He said whenever Congress had gained power it had put the country into one danger or the other.
"I will explain these dangers in the Parliament during the debate on Budget on Wednesday and reality will come to the fore," he said. Yadav alleged that wrong policies of the Congress-led UPA government were responsible for price rise.
"Soaring prices had turned this festival colourless for nearly 80 per cent people in the country, but those in the Congress government have nothing do with the masses," he said.