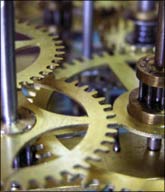 India's export of engineering goods grew by over three per cent to $2.84 billion in January 2010 compared to the year-ago period on improved demand from the US and European markets.
"Engineering exports have shown slight improvement in January. But full recovery is yet to happen in the western markets," Engineering Export Promotion Council executive director Suranjan Gupta.
"We feel that full recovery will take some time. A turnaround in demand is expected in the next fiscal", he added.
However, during April-January FY'10, exports declined to $26.12 billion from $34.19 billion in the same period previous fiscal.
Engineering exports, which had been falling continuously since April 2009, managed to turn positive in November 2009 posting a 10 per cent growth.
But, in December, it again showed a decline of about two per cent.
The US and European markets together account for over 40 per cent of India's total engineering exports.
During 2008-09, India's engineering exports stood at $40 billion.