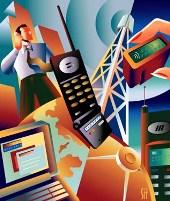 Unable to resolve the differences between the department of telecommunication and the department of space over spectrum use, the government has decided to allow only two players in each circle for broadband wireless services instead of three players earlier.
The department of space and the department of telecommunication are at loggerheads over the use of 2.5 MHz spectrum band for commercial operations, which DoS claims will interfere with sensitive satellite communications.
Earlier, the government had decided to allow three private players, (two in 2.3 mhz band, one in the 2.5 mhz band) and one telecom PSU in each circle.
Accordingly, state-run BSNL and MTNL were allotted spectrum in the 2.5 mhz band but private players had to wait till the issues were resolved. Broadband Wireless Access  spectrum is necessary for rolling out Worldwide Interoperability for Microwave Access  services that helps hand-held devices and laptops to access the Internet.
According to industry body Wimax Forum, the government has to forego a considerable amount of money due to this.
If the amount of spectrum is reduced, the operators and the government stand to lose revenue.
When contacted, officials in DoT said the telecom department is in talks with DoS to resolve the issues. "We are conducting trials to find out how the interference could be reduced," the person said.
An empowered group of ministers last year had decided to issue three licences.
But with no clarity over the third band of spectrum, the government has decided to issue only two licence instead of three.
The WiMAX Forum projects, with the upcoming auctions for the 2.3GHz frequency band, the Indian WiMAX market (including devices) will be worth $13 billion by 2012. This forecast takes into account 27.5 million WiMAX users in 2012.