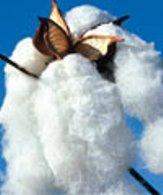 The Central Institute for Cotton Research (CICR), the cotton research institute of the Indian Council of Agricultural Research, has contested Monsanto's claim that the pink bollworm, a pest that feeds on cotton, has developed resistance to its Bollgard cotton.
Instead, CICR has pointed to the emergence of new sucking pests which could have caused economic losses to cotton farmers.
CICR Director KR Kranthi said he had told Monsanto that its methodology to arrive at the conclusion that bollworm has developed resistance was faulty, but it chose to ignore it.
Kranthi said cotton yields in Gujarat were still very high. "This marginal difference (between 2008 and 2009) could be more of an outcome of other factors such as rainfall and weather, rather than resistance," Kranthi said.
Monsanto said Mahyco-Monsanto Biotech has been collaborating with CICR and other agricultural research institutes on field-monitoring research across India since 2003.
"We have followed standard protocols for evaluating resistance. High level of pink bollworm incidence in Bt cotton fields is a clear indication that the larvae are surviving the concentrations that kills susceptible larvae."
Monsanto has already released Bollgard II, a seed of superior technology, to deal with the problem.  Though a bag of Bollgard II seeds cost Rs 100 more, Monsanto said it offers value to farmers with the control of key pests like helicoverpa and spotted bollworm.
Overall, approximately 80 per cent of all Indian cotton farmers are expected to plant Bollgard II products in the 2010 season, it said.
Kranthi, on his part, said when testing on a pest that feeds only on one species, such as the pink bollworm, insects are collected from conventional cotton, multiplied in the laboratory and testing is done on the next generation.
If larvae of the insects are picked up from the plant even in the year of its introduction, their progeny gives resistance as they have by then acquired the gene.
Monsanto had released a statement on Friday saying the pink bollworm had developed resistance to the Bt gene parts of Gujarat. Monsanto said: "During field monitoring of the 2009 cotton crop in Gujarat, Monsanto and Mahyco scientists detected unusual survival of pink bollworm to first-generation single-protein Bollgard cotton." It said more efforts should be made towards research and development.
However, Kranthi pointed out that over the past seven years, "coincidentally after the introduction of Bt-cotton", cotton cultivators in India have been facing new problems with insect pest management in many parts of the country, mostly presumed to be a consequence of low insecticide usage.
"New sucking pests have emerged as major pests causing significant economic losses," he said. The Cry1Ac based Bt-cotton is mainly toxic to the bollworms (cotton bollworm, pink bollworm and spotted bollworm), semiloopers and hairy caterpillars.