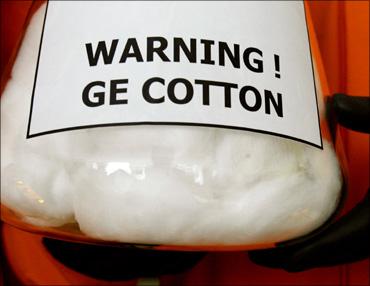 In a setback for genetically engineered cotton, Monsanto, innovator of the strain, confirmed what sceptics had said might well happen, that the pests it was supposed to resist better than natural cotton would also innovate. 
The company confirmed today that the pink bollworm, the damaging pest against which the genetically modified variety had been successful, had developed resistance to the protein in question, in parts of Gujarat. This has been reported to the government's Genetic Engineering Approval Committee.
In a statement issued today, Monsanto said: "Testing was conducted to assess for resistance to Cry1Ac, the Bt protein in Bollgard cotton, and pink bollworm resistance to Cry1Ac was confirmed in four districts in Gujarat -- Amreli, Bhavnagar, Junagarh and Rajkot. Gujarat is one of nine states where cotton is grown. To date, no insect resistance to Cry1Ac has been confirmed outside the four districts in Gujarat."
Many who opposed the commercialisation of Bt brinjal in India had said insects could develop resistance to it after some years. They'd made the same predictions earlier on Bt cotton.
Monsanto said, during field monitoring of the 2009 cotton crop in Gujarat, its scientists and those of Mahyco (its sister company) detected unusual survival of the pink bollworm to first-generation, single-protein Bollgard cotton.
It said current monitoring efforts by an Indian-expert network to manage insect resistance will be expanded. "The network will continue to conduct extensive insect monitoring, encourage appropriate stewardship practices such as proper refuge planting through an intensified farmer education campaign, and explore new methods of refuge seed delivery," it said. 
Adding, "resistance is natural and expected, so measures to delay resistance  are important." Among the factors that may have contributed to pink bollworm resistance to the Cry1Ac protein in Gujarat are "limited refuge planting and early use of unapproved Bt cotton seed, planted prior to GEAC approval of Cry1Ac cotton, which may have had  lower protein expression levels."
It said there was need for continuous research and innovation to develop new value-added technologies to stay ahead of insect resistance. "To support such innovation, government policies should encourage investment in research and development, which will result in Indian farmers having a wider choice of better and advanced technologies," it added.